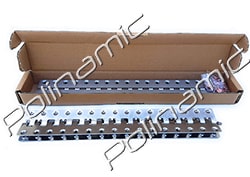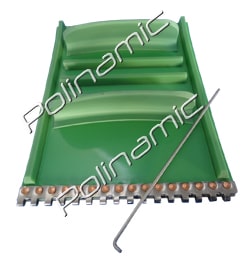 We are glad to inform you that it is now possible to order on-line our metallic junction for Gregoire grape harvesters belts.

Our junction has a special profile, designed by Polinamic and obtained by laser cutting, which minimizes belt wear.

The material was subjected to a further cold finish which prevents any alterations of stainless steel surface.
The junction is perfectly compatible with Gregoire original spare parts.
Material: stainless steel
Price of one junction: 78 €
Sold in 2 pieces per pack. Eack pack contains:
– 2 complete junctions
– 64 copper rivets
– 2 gauge pins