NAMIGREEN product line
ERRINGBONE BELTS

Belts specifically designed for the transportation of olives. The original design, developed by Polinamic's R&D, optimizes the olives transportation phase by increasing the capacity and improving the drainage of fluids compared to conventional conveyors.
The edge on the outer sides of the belt, specially folded, improves the conveyance of product to the central part of the belt, increasing the overlap necessary for sustenance on the support rollers on the return side.
They are made of solid woven fabric, with long life impregnation treatment on the driving surface.
Customized measures on demand.
Technical specifications: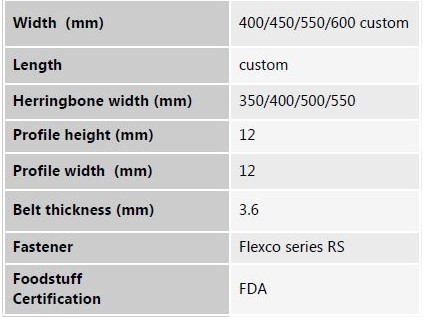 Download technical data sheet


ERRINGBONE BELTS FOR LARGE LOADS


These conveyor belts for olives, designed for large loads, are available in two types:
Conveyor belts usable also on inclined surfaces up to 30 °, characterized by a wider pitch between profiles (left in the image)
Conveyor belts usable also on inclined surfaces over 30 °, characterized by a reduced pitch between profiles (right in the image)
Technical specifications:
17x17mm profile in special compound resistant to acid environments and oils, characterized by high flexibility to allow use even on small diameter drums
Profiles geometry designed for the drainage of liquids during transportation
High side containment (higher in belts for inclinations up to 30 °)
Drum diameter similar to that of classical herringbone belts
Dimensions: customized width and pitch



Installation on a system with a workflow of 100 quintals per hour