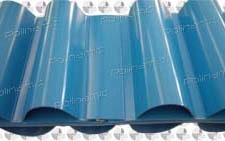 We are proude to announce a new addition to our line of belts for the transportation and processing of agricultural products: the new Waves belt for heavy agricultural products.
Given the variety of products for which they can be used, these belts are designed and produced for each specific application and sized according to the load and the geometry of the agricultural product to be transported (i.e. watermelons, cantaloupes, etc.). Not only the waves pitch and height are customized, but also the belt thickness.
The belt is made of PVC for food use. Wave welding is done through high frequency welding machines.
For more details, please visit the product page