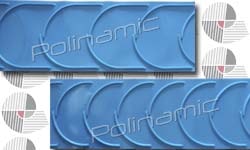 We are pleased to inform you that we have expanded our range of conveyors belts for the transport of olives, with the introduction of a new kind of belts specifically designed for the handling of large loads of olives.
Compared to traditional herringbone belts, which we continue to manufacture, these new conveyor belts are characterized by the particular rounded geometry of the herringbone, which allows the transport of large quantities of olives.
Two types of belts are available, each with a different pitch between the profiles, optimized to work on two different levels of inclination:.
Conveyor belts usable also on inclined surfaces up to 30 °, characterized by a wider pitch between profiles (top in the image)
Conveyor belts usable also on inclined surfaces over 30 °, characterized by a reduced pitch between profiles (bottom in the image)
Technical specifications:
17x17mm profile in special compound resistant to acid environments and oils, characterized by high flexibility to allow use even on small diameter drums
Profiles geometry designed for the drainage of liquids during transportation
High side containment (higher in belts for inclinations up to 30 °)
Drum diameter similar to that of classical herringbone belts
Dimensions: customized width and pitch
For the complete range of our conveyor belts for olives, please visit the product page